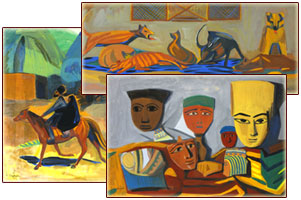 The total number of M.Sarian's works kept in the Armenia National Gallery makes up 204 units, out of which 122 – pictorial and 82 – graphic ones.
Lots of works have been acquired from the artist himself and also from private collectors.
In addition the collection was replenished via Armenia Ministry of Culture and Armenia House of Culture in Moscow.
Amidst pictorial works of the early 1900s there are such rare temperas of the "Blue Rose" period as the 1907 "Panthers" and "Under the Trees" and in addition several masterpieces of 1900s  such as 'Persian Girl' (1910), "Egyptian Masks" (1913), "Woman in a Mask" – S.I.Dymshits'(1916) and others.
The collection is rich also with the 1930-1940 portraits of such as A.Tamanian, A.Issahakian, I.Orbeli, marshal I.Bagramian, admiral I.Isakov and others.
Among graphic works a special place belongs to the illustrations of Armenian folk tales and the sketches of the costumes and stage sets for the opera "Almast" by A.Spendiarov.
Tel:
Е-mail: (374 10) 52 16 07
info@sarian.am