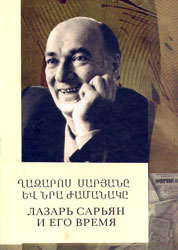 The second completed publication of the book "Lazar Sarian and his time" has cօme out. The compiler and editor Araksi Sarian.

It's possible to purchase the book in the following bookstores:

"Zangak", Yerevan, Komitas prospectus, 49/2,
tel. (+374 10) 23 26 49

"Bjurokrat", Yerevan, Sarian str. 19,
tel. (+374 10) 50 01 52




LAZAR (GAZAROS) SARIAN
Compozer
30th of Septamber


The firs director or the museum was the artist's son the composer Lazar Sarian



| | | |
| --- | --- | --- |
| People's Artist of the USSR and Armenia, Laureate of Armenia State Prize, professor Lazar (Ghazaros) Sarian, one of the brilliant representatives of Armenian music of the second half of the 20th century. He was also a noted public figure and pedagogue. He was born on Sept. 30 in 1920 in Russia, in the town of Nakhichevan-on-Don (New Nakhichevan, now a region of Rostov-on-Don) in the family of the great artist Martiros Sarian. | | |
Lazar's music talent became apparent very early in his life. The composer to be started to sing folk songs together with his mother Lussik Agayan-Sarian and his uncle, musicologist Musheg Agayan at the age of 3 years old.
When he was six years old he studied in the group for gifted children under the Yerevan Conservatory, where his classmates were A. Babadjanian, E. Mirzoyan, A. Harutunian.


Their relationships, that started since their schooldays continued for their whole life and became history of friendly and creative ties of "Armenian Mighty Handful".
In 1934-1938 Lazar continued his study in the creative class headed by S.V.Barkhudarov and V.G.Talian, after that at the Music College after the Gnesins (Moscow), where his teacher was V. Ya. Shebalin.

The success in music did not prevent him from carrying out his civil duty: he had participated in the Great Patriotic War (1941-1945). As a lieutenant of the 7th anti-aircraft machinegun regiment he was called Lazar – a Russian version of his name – Gazaros. He was awarded the "Distinguished Service Order", the "Fighting Red Flag", "Order of the Red Star" medals. He also headed the regiment's amateur performances, played the button accordion, composed songs. In 1945 he married Galina Lesnikova with whom he served in the same regiment. He had three children by her: his son Ruben, and his daughters Katarine and Ruzan.  Nowadays Ruzan Sarian is the Martiros Sarian House-Museum director.

From 1946 he continued his musical education at the Moscow Conservatory in composition class under A.N.Alexandrov, studied under D.D.Shostakovitch and D.B.Kabalewski.
Sarian's works are notable for their fine sounding, the plot importance, striking original style, orchestra mastery, artistic unity of national traditions and up-to-date aspirations. The composer preferred symphonic and chamber-instrumental entertainments.
He also composed songs, love songs, music for films. Such composer's works as "Symphonic pictures" (have been recorded to gramophone disc in the USA), symphonic panel "Armenia", composed under the impact of his father's- Martiros Sarian's picture – panel "Armenia", "Aria and Toccata" for violin and piano, "Violin and Orchestra concert" and also "Symphony", Quartet N2, Cello and Piano sonata, "Three Postludes" for piano  have gained wide recognition.

In 1995 in the French town of Mets, in the modern music hall after Pierr Boulez , "Passacalia" for the Grand Symphonic orchestra composed in 1994 , went off with major triumph.

In 1997, a few months prior his death, Lazar Sarian wrote his new composition for violin and chamber orchestra - "Andante & Presto".

L. Sarian's 26-years activity as rector of Yerevan Conservatory was notable for the implementation of   high professionalism principles, the preservation of national traditions and the introduction of worldwide innovatory trends. Such noted composers as Tigran Mansurian, Ruben Sarkisian, Vartan Adjemian, Ruben Altunian, Armenui Karapetian and others were educated in the same creative class as well.

In 1963-1977 L. Sarian when taking up the duties of the first director, was the construction manager of M.Sarian museum. In 1968 he married for the second time the musicologist Araksi Arutunian-Sarian. They had two daughters: the untimely deceased pianist- Lussik Sarian and Sophie Sarian – now chief curator of the Martiros Sarian House-Museum.

Lazar Sarian passed away on May 27, 1998.
Tel:
Е-mail: (374 10) 52 16 07
info@sarian.am